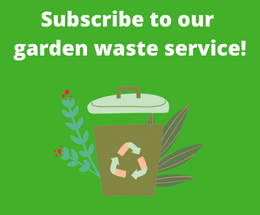 Have your grass cuttings, leaves and perished flowers taken straight from your doorstep by subscribing to Folkestone & Hythe District Council's garden waste service.
Residents can sign up for fortnightly household collections between 1 April 2023 and 31 March 2024 for just £53, with a one-off £34.50 charge for a bin.
Cllr Stuart Peall – Cabinet Member for Enforcement, Regulatory Services, Waste and Building Control – said: "This service is ideal for keen gardeners, as well as those who just want to keep their lawns tidy.
"Not only do the collections save you a trip to the tip – they also mean your garden waste can be converted into something useful, such as compost for local fields."
Assisted collections are available for those who need it.
Leader Cllr David Monk added: "It's easy to subscribe to the service. Just visit our website and follow the simple steps."
Visit folkestone-hythe.gov.uk/garden-waste for more information and to sign up.