What have we done?
We have renovated 35 of the existing beach huts, removed 44 which are in a poor condition and installed 80 new wooden chalets on the promenade below the Lower Leas Coastal Park. This is in the Folkestone Leas & Bayle Conservation Area.
We have also improved the surrounding area, including repairing retaining walls and replacing ramps and steps. Planning permission to carry out the work was given on 26 May 2020.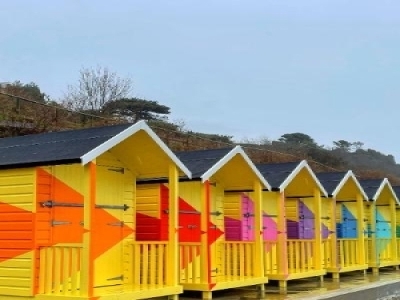 What do the new huts look like?
The new huts vary in size from 1.8m x1.8m up to 3m x 3m, offering lease options at a rent to suit different budgets. They are wooden with pitched felt roofs and finished with a stain.
The new huts are considered to resemble those found along the Kent coast and will complement the huts which are being renovated.
What did the renovation involve?
The huts that have been renovated are in two areas. Those numbered 1-27 are concrete huts and front doors and associated ironmongery has been replaced. The pitched slate roofs have been repaired or replaced depending on their condition. Loose render has been removed prior to painting and air bricks installed to prevent damp.
The tiered chalets in another zone are concrete with felt flat roofs and wooden windows and front doors. Loose render has been removed prior to painting and new roofs which are to be topped with sedum living green roofs to encourage biodiversity installed. Doors, ironmongery and shutters have been replaced.
A steel handrail near the tiered chalets has also been installed.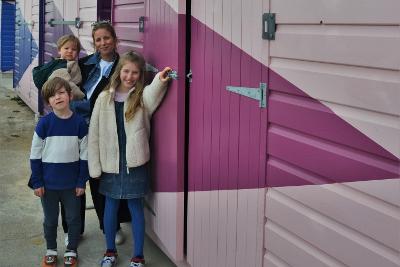 How can I lease a chalet?
Due to popular demand, the waiting list for chalets is currently closed and we are not able to consider any further requests at this time.
Considering future leases
Folkestone & Hythe District Council, acting as Trustees for the Folkestone Parks and Pleasure Grounds Charity, is considering the next leases for the Folkestone beach huts. A proposal for five-year leases is being made in accordance with section 121(2) of the Charities Act 2011 by way of a public notice as shown.
You are able to provide feedback on the proposal until 30 September 2022 and you are welcome to respond in accordance with the public notice.
You may have additional queries about the future process of the letting of Folkestone beach huts. However, at this time, only the proposed lease term is being proposed. This will inform a future policy on beach hut leasing, which will be drafted later this year to be considered by councillors.