Good mental health and wellbeing is essential for everybody and there are many sources of help to ensure anyone needing help can be supported.
The attached guide provides a range of service including mental well being services such as Release the pressure
If you're feeling the pressure, don't suffer in silence. You can call 0800 107 0160 or text the word "Kent" to 85258 or visit Release the pressure Support is free, confidential and available 24hrs a day. It's provided by independent charities and funded by Kent County Council,Medway Council and NHS partners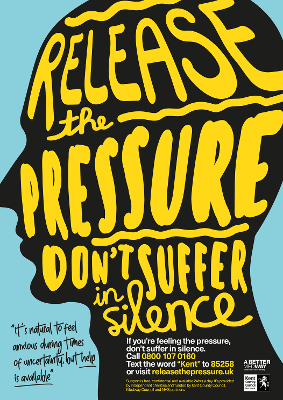 The Spotlight website assists in finding activities and services that support mental health and wellbeing near you.
Additional support services available are :
Joint Support Services Guide 2020 (XLS, 70KB) giving you a large list of support services in the area, including addiction, the elderly, armed forces, animals, bereavement, debit, disabilities, housing, mental health, suicide and youth.
Folkestone Haven
The Folkestone Haven will moving from a phone support line to a face to face service from 1 July 2020.
The service is for adult residents from the Folkestone and Hythe District in some form of Mental Health distress or crisis.
Located at The Rainbow Centre at 69 Sandgate Road, open 365 days a year.
Monday - Friday between 6pm - 11pm
Every Saturday, Sunday and bank holiday between 12pm and 11pm
Each phone line will be diverted to one of two recovery staff, giving callers a 50% chance of talking to the same person when using the same number.
The phone number for the service from Wednesday 1 July will be 07827 533 871. This phone number will be staffed at the opening times of the service although if you leave a message, we will arrange for someone to call back / email you.
07827 533871 - Referral Line
07827 416697 - Mel Hawkes Service Manager
Staff will help callers to de-escalate immediate anxiety, and safety plan to help keep themselves as safe as possible.
Robust COVID-19 protocols are in place including screening protocols, social distancing and maximum numbers in each room / space which they will communicate to people using the service on arrival.
They are not providing meals at this time but will be providing hot and cold drinks and snacks.