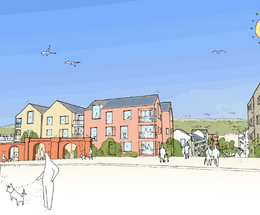 A second public engagement event focusing on the future of the derelict Ship Street gasworks site is to be held next month.
Folkestone & Hythe District Council - which took ownership of the 1.5 hectare plot in 2021 - has recently appointed an experienced team of designers, engineers and sustainability experts for the project.
The proposal is a mixed-use, housing-led development which could include a sustainable mix of energy efficient homes with courtyard gardens, commercial space, and public creative and cultural space.
Another public engagement event is taking place to allow residents and stakeholders to view and comment on the evolving proposals.
It will be held at the Quarterhouse in Folkestone (CT20 1BN) between 4pm and 7pm on Wednesday 1 March. Anyone interested can drop in at any time during the three-hour session.
Those unable to attend will have a chance to comment on the latest design at a later date. Details will be added to the Ship Street section of the council's website.
Cllr David Godfrey, Cabinet Member for Housing and Special Projects, said: "The Ship Street scheme is really starting to build momentum and the input of the community has been invaluable so far. I'm looking forward to hearing more feedback at this latest event."
A successful session was held in March 2022, and the feedback provided by residents helped shape the detailed design brief. A majority of residents said:
The site should prioritise high quality houses and flats.
Buildings should be low emitters of carbon, energy efficient and economical to heat and cool.
The scheme should include affordable homes to rent and buy.
The scheme should have shared public amenity and creative space - and improve the look of the area.
The plot is situated in a strategically important position between Folkestone Central station and the town centre - including the harbour area.
Leader Cllr David Monk added: "The Ship Street project forms a part of our wider vision to deliver sites for employment and housing across the district."
Visit folkestone-hythe.gov.uk/ship-street for more information about the site's history and bright future.