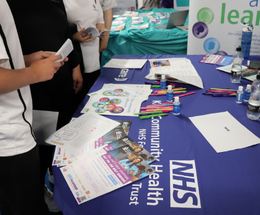 An event aimed at encouraging both students and other Marsh residents to seek training and career opportunities is making a welcome return.
Romney Marsh Inspires will take place at The Marsh Academy (TN28 8BB) on 21 June following a successful debut in 2022.
Folkestone & Hythe District Council, the Romney Marsh Partnership, Romney Resource Centre and The Education People have worked together on organising this year's event – set to be bigger and better than the first.
A wide range of training providers and career advisors will attend alongside 'local champions' who have helped shape the district.
Cllr David Wimble, Cabinet Member for Economic Development, said: "There are huge opportunities for Marsh residents to expand their career horizons. This event will showcase what is possible and build on last year's great work".
There will also be workshops, interactive activities and talks from organisations including the NHS, Digital Kent and Kent Fire and Rescue Service.
Romney Marsh Partnership chairman Cllr Patricia Rolfe added: "The RMP continues to steer the regeneration of the Romney Marsh through the implementation of various investment initiatives. This skills event demonstrates the importance of 'investment in people' so ensuring that access to a wide range of work and training prospects are available to those living in this beloved area".
Email apprenticekent@theeducationpeople.org to find out more about the event or to register your interest.
---
The Romney Marsh Partnership (RMP) was formed to develop and lead the delivery of a Romney Marsh Socio-Economic Plan. This is an economic strategy targeted at mitigating the negative consequences of the defueling and decommissioning of the local nuclear power stations (Dungeness A and B), and in recognition of the area's historic economic reliance on the nuclear sector.
The Education People is a one-stop shop for education services, supporting the full age range from early years to young adults. Its mission is to support early years and childcare settings, schools and colleges, to improve learning, wellbeing and children's development in Kent and beyond.
Romney Resource Centre is a charity dedicated to empowering people living on the Romney Marsh with a wide range of educational, training and community initiatives. Some of their key work includes Post-16 Education, supporting those with Special Educational Needs and Disabilities in our community.