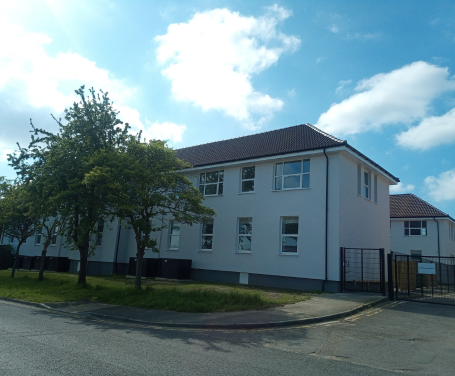 Work started last year on making the district's social housing stock more energy efficient.
Funding from Wave 1 of the Social Housing Decarbonisation Fund (SHDF), and match funding from Folkestone & Hythe District Council has allowed us to ensure that more than 120 properties will benefit from improvements which will help tenants keep their homes warm in winter and cool in the summer more efficiently.
Ross House – a block of 16 flats in Folkestone – was the first to undergo a significant retrofit as part of a wider programme of improving the district's council homes.
The project was completed this week and tenants will begin to move into the new and improved apartments in June.
Work at Ross House included externally insulating and rendering the building, this not only makes the small block of apartments look better but also improves thermal efficiency. Further external improvements have been made to bin, bike, and drying areas.
Inside, the kitchens were replaced and – to further reduce the carbon footprint of the building – the loft and under floor voids were insulated. Photovoltaic panels and more energy-efficient air source heat pumps were also installed (replacing the current electric heating system).
Cllr Rebecca Shoob, Cabinet Member for Housing and Homelessness, said: "This work will go some way in helping us meet our target of all council-managed homes achieving an energy performance certificate of band C by 2030."
"The improvements will mean tenants' homes are better insulated and more comfortable to live in, as well as reducing the carbon they emit."
F&HDC were recently awarded £2.6M in Wave 2 of the SHDF. The funding will be matched by the council bringing the total spend on improving the homes and wellbeing of tenants to £5.2 million.
The new grant will continue the work begun last year under Wave 1 of the SHDF and will enable F&HDC to improve the energy efficiency of a further 300 homes over the next two years.