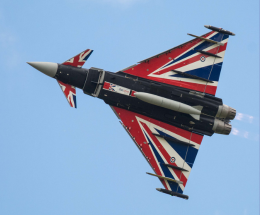 With just over a week to go until the 2023 Folkestone Air Display, everything is in place for a fantastic day out.
Headliners for the event next Sunday (20 August) are the eight Hawk jets that form the RAF Red Arrows, who will undoubtedly be thrilling crowds with their incredible and colourful aerobatics.
A newcomer this year is the RAF Typhoon which will round off the afternoon with a spectacular and no-doubt-noisy spectacle of speed, power and agility. Its attendance has been made possible with the support of Abbeywell Vets in Folkestone.
The Leas and Folkestone Harbour are expected to again be the busiest viewing spots for this year's display for which the timetable is as follows:
1.25pm: Battle of Britain Memorial Flight
2.20pm: RAF Red Arrows
3.15pm: Stampe display team
4.10pm: Pitts Special
5pm: RAF Typhoon
Due to the expected large crowds, residents and visitors are asked to consider using public transport on the day. No railway strikes are planned for Sunday 20 August.
For those who drive, temporary car parks at Radnor Park (CT19 5AU) and Folkestone School for Girls (CT20 3RB) will be available. Both will be open between 10am and 6.30pm and it will cost £5 to park.
Only cash can be accepted so motorists are asked to remember to bring change.
Stewards will be working throughout the day to keep disruption to local roads to a minimum. Several roads will be closed and there will be suspensions to some parking bays.
Folkestone Festivals is organising food, arts and craft stalls, dance displays, live music and a classic car show along The Leas on both the Saturday and Sunday. Additional temporary toilets will also be installed in the area.
The latest information can be found by visiting the council's website or by following our Facebook and Twitter pages.