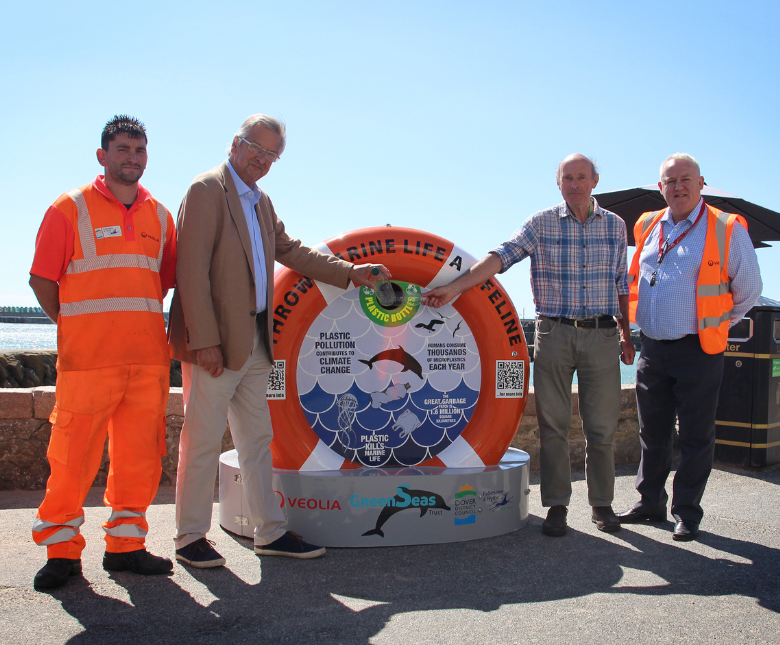 Folkestone & Hythe District Council and Dover District Council are delighted to have received two new plastic bottle recycling bins for Sunny Sands in Folkestone and Dover seafront.
Sponsored by the councils' waste management and street cleansing contractor, Veolia, it's hoped that the eye-catching bins will encourage beachgoers to recycle their plastic bottles.
The 'BinForGreenSeas' was designed by two students at the University of East London in 2019. At 1.5m in height, the iconic design resembles a life buoy as it encourages beach visitors to 'throw marine life a lifeline'.
Grabbing the attention of passers-by, these bins help to make the connection between litter thoughtlessly left behind on beaches, and the harmful effect this has on marine life and human health. Each bin is both symbolic and practical in reducing plastic pollution.
In the UK alone, 700,000 plastic water bottles are littered every day (source: Keep Britain Tidy).
Cllr Jeremy Speakman, Folkestone & Hythe District Council's Cabinet Member for Assets and Operations, said: "We are very pleased to have this new bin at Sunny Sands which will make the recycling of unwanted plastic bottles much easier and help keep our beach cleaner."
Cllr Edward Biggs, Cabinet member for Environment at Dover District Council, said: "We're thrilled to have been donated this wonderful new Greenseas Trust plastic bottle recycling bin for Dover beach by Veolia. Protecting our environment for future generations is paramount, and this bin will encourage beach users to recycle their plastic waste while helping to keep the beach clean."
David Fitzgerald, General Manager for Veolia, said: "We're excited to see these new bins in action. Innovative design can have a hugely positive impact on behaviour change, and by strategically placing these plastic bottle recycling bins along the seafront, we hope to see a sea change towards the capture of more recycling, helping us deliver ecological transformation across both districts."
Fazilette Khan, Founder Trustee of GreenSeas Trust, said: "It is wonderful to be siting two of our BinForGreenSeas in Dover and Folkestone. I am especially pleased because I worked out of the Port of Dover myself and know the bins will encourage people to be more responsible with their waste."
Pictured above left to right are: A member of the Veolia waste crew, Folkestone & Hythe District Council councillors Jeremy Speakman and Stephen Scoffham and Gary Morrison, Veolia Senior Contract Manager.