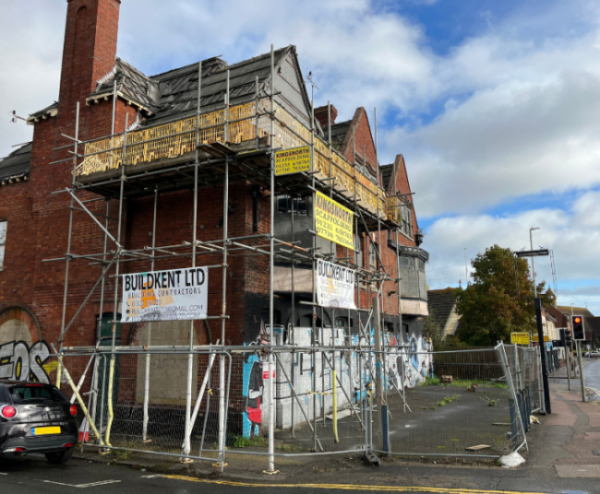 The owner of a former public house has been ordered to make improvements to a building which has become a blight on the local area.
The condition of The White Lion – located at 70 Cheriton High Street and dating back to at least the 1850s – has deteriorated in recent times. It last closed in 2006.
Folkestone & Hythe District Council, under powers given by the Town and Country Planning Act 1990, has now demanded urgent action by serving a Section 215 notice on the site owners.
Kent County Homes Limited has until 13 November 2024 to complete a series of improvements. These include:
Removing and replacing all perished, torn and damaged roof underlay and battens
Retiling the roof with clay tiles of a similar colour to those removed
Replacing missing brickwork, removed doors and rainwater goods (e.g. guttering)
Removing all hoardings, graffiti and the build-up of waste in the rear garden

Cllr Polly Blakemore – Cabinet Member for Transport, Regulatory Services and Building Control – said: "Local residents have shared their concerns about The White Lion for a long time. While the future of the building is yet to be decided, it's unacceptable for the owners to leave it in this state for so long.
"Serving a Section 215 notice should ensure improvements are made and see the property return to a neat and tidy condition."
A local planning authority can serve a Section 215 notice when the condition of land or buildings adversely affects the amenity of an area, and normally requires the owners to take steps to improve the condition of the site.
Failure to comply with the requirements of the notice constitutes a criminal offence.