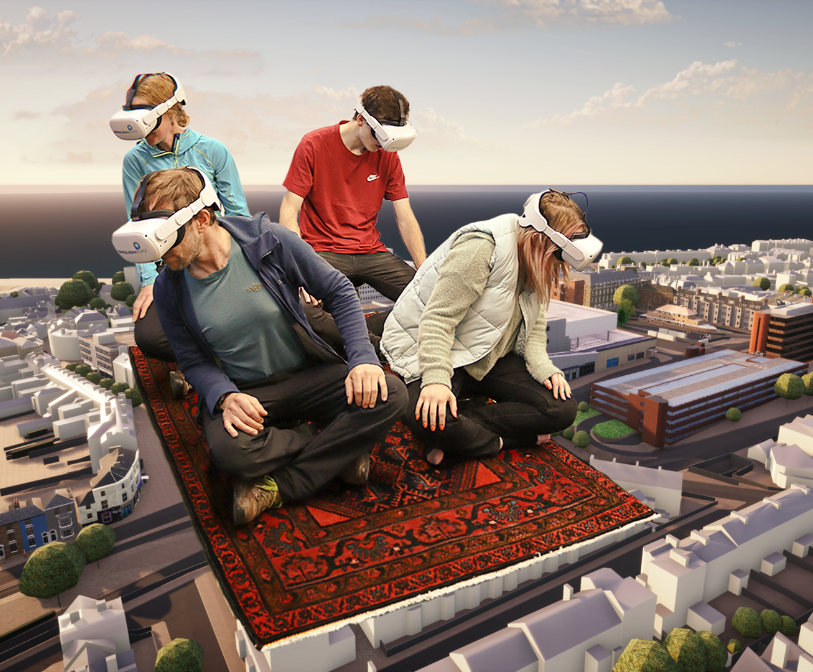 Residents are being urged to pay a flying visit to Folkestone town centre in November to discover more about the exciting changes planned for improving access and bringing back its green "heart".
Visitors to public engagement events at Bouverie House Business Centre on Friday 17 November and Saturday 18 November will be invited on a rather special journey that will be too good to miss.
Wearing special goggles visitors can enjoy a virtual reality tour enabling them to feel like they are flying on a magic carpet high above the town centre getting a bird's eye view of the proposed changes.
The experience, which can be booked in advance, will last about 15 minutes and afterwards the flyers will be able to share their views on what they like or dislike about the plans.
For those who would rather keep their feet firmly on the ground the plans will be displayed on boards and for all there will be options of leaving comments or completing a survey.
Visitors can also talk to those involved in the levelling up project funded by £19.8 million secured from central government after a successful bid by Folkestone & Hythe District Council.
Councillor Rich Holgate, Cabinet member for the District Economy said: "I have had a sneak preview of the technology and it is a really fantastic way of seeing what the town centre might look like with the suggested changes. It certainly brings the proposals to life.
"We really want to hear people's views and as our July engagement for phase one has shown, the council will listen.
"A roundabout at the junction of Shorncliffe Road and Cheriton Road was put forward in phase one. But residents told us they didn't feel that would work and our design team has literally gone back to the drawing board to come up with an alternative design."
Simon Mabey from Digital Urban, creators of the virtual reality tour, said: "We are delighted to be working with Folkestone and Hythe on this project. Playful immersive technology is such a great way for people to get involved, have fun whilst also contributing towards proposed changes. Brilliant that F&H DC has embraced such a creative approach."
The November public engagement sessions at the Bouverie House Business Centre in Bouverie Square (between the bus station and Burger King) will be held from 1pm to 7pm on Friday (17 November) and 11am to 4pm on Saturday (18 November).
All are welcome to drop in and there will be some virtual tour sessions available for those who haven't booked.
Feedback from the July public engagement can be found here.
Photograph caption: Four people enjoying the virtual reality image of Folkestone town centre from the magic carpet.