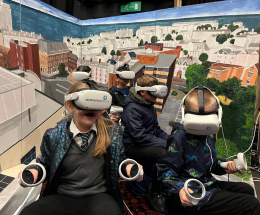 Hundreds of residents have paid a flying visit to the future exploring the exciting changes planned for Folkestone town centre.
Young and old took to the air on a virtual magic carpet ride, soaring over Middelburg and Bouverie Squares and down to Shellons Street before swooping up Guildhall Street and Sandgate Road.
All flights were courtesy of virtual reality technology and taken without having to set foot outside Bouverie House Business Centre where a public engagement event was held on Friday and Saturday (17 and 18 November 2023).
Back on the ground passengers were invited to view display boards, ask questions and make comments on the second phase of Folkestone – A Brighter Future (FABF), the project funded with government Levelling Up money.
Phase two proposes moving buses from Bouverie Square to stops on Middelburg Square, enabling a range of possible options for the bus station area. These could include a green public square offering a new space for public events in the heart of the town.
Other proposed changes include a new park running alongside Shellons Street, replacing Foresters Way, and a new link between Guildhall Street North and Guildhall Street making it easier to cross the road into town.
Cllr Rich Holgate, Cabinet Member for the District Economy said: "The virtual reality flypast has been a tremendous way of giving residents and visitors a real insight into the proposed changes.
"We were particularly pleased that young people from Folkestone schools were able to join us. Their reactions were inspirational, and they did not hold back in telling us what they wanted to see in the town centre!
"Thank you to everyone who visited the event. We hope it helped give you some insight into what is being planned as well as the opportunity to give us your opinion."
For those who missed the flypast opportunity – a video version will soon by published on the council website where the display boards can also be viewed and a link to a community survey requesting feedback on phase two.
Feedback from phase two will be considered by the project design team and any alterations and changes published. Changes made after the phase one engagement and can also be viewed on the council website.