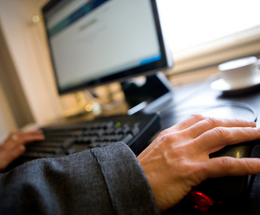 Folkestone & Hythe tenants can now view and update information 24/7 via the council website.
Housing Online, which launched on 16 January, provides them with quick and easy access at their convenience using a smartphone, PC or tablet. The new service will free up resources to support those who may benefit from additional assistance.
After logging in, the information will include:
Viewing and updating contact and personal details
Viewing rent balances and statements
Making online payments
Setting up a Direct Debit
Requesting a repair
Chasing the progress of a repair
Viewing repair history
Respond to surveys
Upload documents
Make payments
Cllr David Godfrey, Cabinet Member for Housing and Special Projects, said: "The service has been developed in line with feedback and expectations of our tenants.
"Our ambition is for tenants to be able to contact us through a seamless online self-serve system which is, quick, easy, intuitive, and accessible. Of course, anyone without internet access can still contact us in the usual way."
Leader Cllr David Monk added: "Tenant satisfaction is at the heart of this new platform; we have identified common reasons why our tenants contact us and this data has been integral in building the new service.
"More options for tenants will be added over time as part of our journey of continuous improvement."
To create a Housing Online account, visit folkestone-hythe.gov.uk/myaccountinfo