We're exploring the demand for electric vehicle charging points across Folkestone & Hythe. This will help us to plan future charging locations.
If you own, or are thinking about buying an electric vehicle or plug-in hybrid, you can suggest a location for an on-street charging point.
Please email tro.consultation@folkestone-hythe.gov.uk
All of the district's 103 charging points for electric vehicles (EV) are now up and running.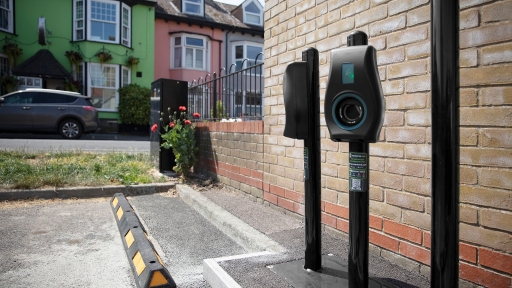 This is a picture of charging points for electric cars.
These are in the following car parks:
Tram Road Car Park
Sandgate Road Car Park
Wilberforce Road Car Park, Sandgate
Dymchurch Central Car Park
Church Road Car Park, New Romney
Station Road, The Sidings, Lyminge
Upper Payers
The Paddocks, Hythe
Mount Street, Hythe
The Lade
Shellons Street Car Park
Military Road Car Park
West Street, Car Park
High Knocke
Twiss Fort Car Park Hythe
Battery Point
Pleydell Gardens
Lower Payers Car Park, Mill Bay
East Cliff Pavilion
Jolly Fisherman, Greatstone
Fisherman's Beach
Castle Road Car Park, Sandgate
The Coastal Park Car Park
Broomfield Road Car Park
Civic Centre Car Park
Lower Sandgate Road West Car Park
How it has happened
Folkestone & Hythe District Council has partnered with Kent County Council and five other local authorities for the roll out, which will see one of the largest networks of consistent charging points.
The new charging points are being installed by Connected Kerb, one of the UK's biggest providers.
The charging points offer a mixture of fast 7Kwh, 22kw and rapid 50Kwh, depending on the location.
For a guide as to how the charging points work, go to: Connected Kerb
The Kent picture
A total of 600 points will be installed across the county over the next two years, with districts applying for 75% funding through KCC, and Connected Kerb funding the remaining 25%.
The other five authorities are Gravesham Borough Council, Medway Council, Sevenoaks District Council, Thanet District Council, and Tonbridge and Malling Borough Council.
Reaction
Cllr Lesley Whybrow, Cabinet Member for the Environment, said the installation is part of the council's pledge to drive down its carbon footprint. She added: "I am delighted that we are increasing the number of EV charging points in our district and I hope that this will give people the confidence to consider changing to an electric vehicle."
Cllr Ray Field, Cabinet Member for Transport and Digital Transformation, said for people who have to use cars, making EV charging accessible was a priority: "Knowing that you will be able to arrive at virtually any car park in the district, at any time, in any vehicle and easily charge your battery is the way forward for us all."
Chris Pateman-Jones, CEO of Connected Kerb, praised the "forward-thinking" district authorities and Kent County Council for joining forces on the project, which he said: "Provides a blueprint for other local authorities across the UK to do the same."