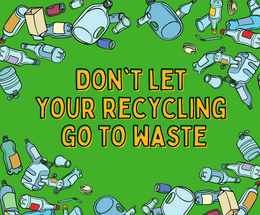 We know lots of residents work hard to recycle – however sometimes rubbish can end up in the wrong bins. This 'contamination' can prevent the whole lorry load from being recycled and result in the council being charged for its disposal.
We want to make sure that your efforts help the planet. We have put together a list of tips and FAQs to help eliminate contamination in your recycling and ensure that your time is not wasted.
Do
Separate your paper and card from the rest of the recycling and put it in your black box
Rinse your items before recycling them to remove any traces of food waste
Put your recycling items in loose
Use the Recycle Now website to double check the items that can be recycled in our district.
FAQs
What are the main 'contaminators' in our district and how should they be disposed of?
Black bags, plastic carrier bags and soft plastics (e.g. crisp packets, film): Put them in your refuse bin – although some supermarkets offer a recycling service for plastic carrier bags and soft plastics.
Hard plastics (e.g. children's toys, buckets): These belong in your refuse bin.
Electrical items (e.g. microwaves and hoovers): These can be disposed of at your local household waste recycling centre or by using our bulky waste collection service
Paper/card: These can be recycled but not in your purple-lidded bin. They need to be separated from plastics, glass and metal and put in your black box.
Why can't paper and card go in my purple lidded bin?
Paper and card goes to a different destination to the recycling in your purple-lidded bin so paper and card must go separately in your black box.
Why do I need to rinse my recycling?
Food contaminates the recyclables so it's important that you remove any trace of it before putting your recycling into the purple lidded bin.
The packaging has a recycling symbol on so why can't you take it?
The labels may not be accurate for our area as some items labelled as recyclable may require specialist services.
You can visit Recycle Now to get specific information on what you can and cannot recycle in our district as well as more information about the recycling symbols and what they mean.
Why shouldn't I use bin bags in my recycling bin?
Plastic bags and black plastic sacks cannot be recycled and contaminate the load if placed in your recycling bin. Recyclable items should be placed loose in the bin.
Can I recycle textiles?
We have no facility for recycling textiles so if you are not able to donate them to a charity shop or deposit them in specialised collection containers they should be put into your general rubbish.