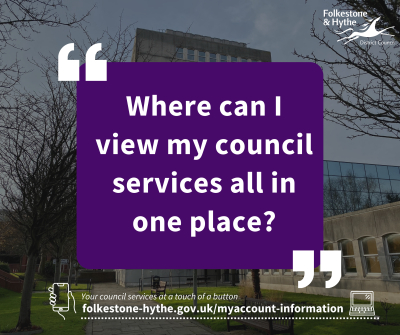 An incredible 35,000 residents have now registered with Folkestone & Hythe District Council's MyAccount service.
With nearly 70% of interactions now online, the digital platform is constantly being improved to help residents access council services easily and quickly.
A recent update has seen faster response times for those getting in touch about their household waste and recycling collections. Residents can make use of 155 different functions via MyAccount.
This is following the launch of Housing Online last month – a service which allows council tenants to view and update information about their property. This includes viewing balances and statements, booking a repair, making payments and setting up a Direct Debit.
Cllr Ray Field, Cabinet Member for Transport and Digital Transformation, said: "MyAccount has clearly been embraced by residents across the district and we will continue to develop the platform to meet the needs of our customers."
Leader Cllr David Monk added: "Our 24/7 online services allow residents to get on with the more exciting things in life, while helping us to support those without digital access more efficiently at our Customer Access Point or on the telephone."
Visit folkestone-hythe.gov.uk/myaccount-information for more information or to sign up.