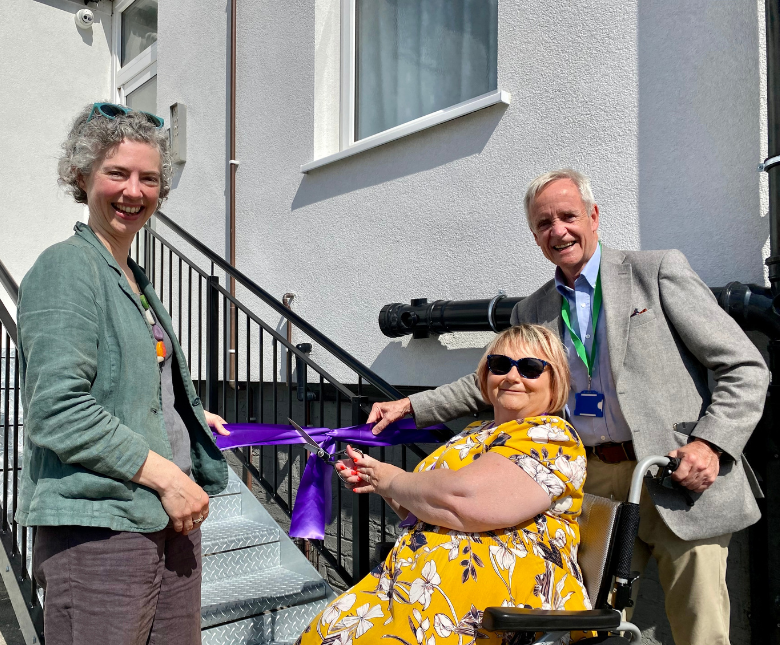 Tenants have moved into a council-managed housing scheme in Folkestone which has undergone significant improvement works.
Work at Ross House forms part of a wider multi-million pound project to help keep tenants warm in winter and cool in the summer through the installation of energy efficient measures.
Ross House is the council's first 'net zero' enabled residential block. Retrofit work at this site includes externally insulating and rendering the building, insulating the loft and under floor voids, installing photovoltaic panels on the roof and adding more energy efficient air source heat pumps. The block of 16 apartments has also been redecorated and had replacement kitchens fitted.
The work was completed using funding from the first wave of the Social Housing Decarbonisation Fund (SHDF), alongside match funding from Folkestone & Hythe District Council.
Elaine Cox, chair of the Strategic Tenant Advisory Panel, officially re-opened Ross House on 18 July.
Councillors, staff and tenant representatives spoke to tenants at the event and learned more about the efforts being made to improve the district's social housing stock.
Cllr Rebecca Shoob, Cabinet Member for Housing and Homelessness, said: "It has been fantastic to see the work that has been undertaken to increase the energy efficiency of Ross House."
"The work being done across our properties in the district will not only improve the comfort of our tenants' homes but also reduce their carbon emissions."
Folkestone & Hythe District Council was recently awarded £2.6m in the second wave of the Social Housing Decarbonisation Fund. The funding will again be matched by the council, bringing the total spend on improving the homes and wellbeing of tenants to £5.2 million.
It will continue the progress made during the first phase, enabling the council to improve the energy efficiency of a further 300 homes over the next two years.